YOUR STAY IN PESCARA
Contacts
Idillio Your Luxury Rooms is in the center of Pescara, near the beach and the trade routes. For any information please contact us, one of our staff will be at your complete disposal.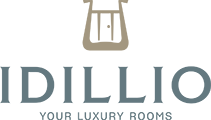 Covered and guarded parking lot: 100 mt.
Pescara Terminal Bus: 0,7 km
Pescara Main Train Station: 0,8 km
Pescara Airport: 4,8 km
Promenade e Beach Resorts: 0,100 km
Piazza della Rinascita (P.zza Salotto): 0,150 km
Centro Movida: 0,650 km
Birth House of Gabriele D'Annunzio: 1.1 km
Pescara Harbor: 1,2 km


Parking opening hours:
Sundays from 08 am to 10 am and 8 pm to 9 pm
Weekdays from 07 am to 1 pm and from 3 pm to 10 pm


Beach service and swimming pool are seasonal.
The season starts on 1 June and ends on 15 September.